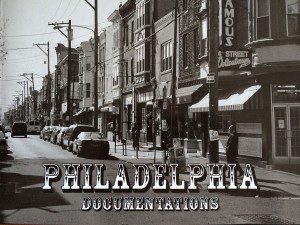 Philadelphia Documentations – $65
(+$7.50 tax/shipping to anywhere in US)
John Andrulis moved to Philadelphia in 2006 after studying Photojournalism in graduate school.  He has incessantly photographed the streets of Philadelphia, The Jersey Shore and Manhattan with his Nikon black & white film camera. Be among the first to own this new photography book on Philadelphia that shows the beauty, character, resilience, grit and artistry found just once, or daily, on the streets of Philadelphia.  From the World Series Parade to the Mummers Parade, City Hall to Citizens Bank Park, The Italian Market to Chinatown, The Ben Franklin Bridge to West Philly, East Falls to Northern Liberties, Winter and Summer.  Philadelphia Documentations is a magical and moving visual narrative of the City of Brotherly Love that mixes street photography with architectural, documentary and cityscape stills to capture what every resident and visitor to Philadelphia admires and cherishes about this historical city.  This book is not only a visual narrative of our city, but the story of this country and its values – found in the bricks and cobblestones of the narrow streets and tree-shaded parks, the old buildings and new restaurants, its residents and its statues, museums and memorials.